Do you want your WordPress website to achieve better Google Rankings in your industry?
Of Course, you do!
A #1 Google ranking means that when people search for a particular term, your web page is the first result.  Since SEO requirements keep changing, it can be hard to keep up with the latest developments.  An easy way to start is by using an SEO-friendly platform for your website.
High rankings rarely happen by chance, you must have a website that is optimized for search engines, otherwise known as Search Engine Optimization ("SEO).  Well-optimized sites get more and more traffic over time, and that means more leads…more sales….more money.  If you want your Google rankings to go from internet oblivion to the top of the list (i.e., the first page of Google, or rather positions 1 through 5 on the first page of Google) your website must have extensive SEO Features.
Without SEO (and Google Ranking), searchers won't be able to find your site, and all your hard work will be for nothing.
First of all, Why use WordPress?
WordPress is the world's most popular content management system, which runs 35% of the entire internet and powers many of the websites you likely browse every single day, including BBC America, Time.com, and TechCrunch. Even The Rolling Stones use WordPress for their official website. If it works for these global giants, you can see why it's the go-to for many website developers.
Launching a WordPress website is not enough to rank at the top of the search engines. You still need to understand the right SEO tactics to use and how to implement these, but WordPress makes this easier for anyone to grow their traffic from Google.
SEO can get technical very quickly, but the beauty of WordPress is that it's easily accessible to those who aren't experienced or even those who don't class themselves as being technical – It's a place to start.  Just because you are using WordPress doesn't mean you won't need basic SEO tactics.
You still need to create great content
earn great links
ensure that your site is well-optimized and free from technical issues that could hold it back.
Luckily WordPress has many features, right out of the box that can help your site to rank well online.   Below are implemented growth-driving tactics specific to the WordPress platform that will help with your site's SEO
Choose a theme that is SEO Friendly for Google Ranking
There are thousands of free themes available straight from every WordPress dashboard and many more premium themes that can be purchased from third party merchants, however you need to choose carefully, use a popular well-known theme with solid reviews, or you could end up using one which isn't SEO friendly.
While many themes claim to be SEO-friendly, it is not uncommon for themes to come bundled with scripts and plugins that you will not use, and that will slow your site's performance down. Before installing a theme, run its demo through Google's web.dev tool to get insights on potential performance and SEO issues.
Some themes I have used extensively and recommend are Flatsome Theme, which is a popular & trusted theme for any kind of WooCommerce project, Divi Theme, a useful theme allowing you to design your website in the intuitive front-end editor, OceanWP, a multipurpose theme with tons of powerful features and Parallax,which is a modern and stylish WordPress multipurpose theme that uses parallax backgrounds to create a highly engaging homepage layout.
Use and Install a WordPress SEO Plugin
Before you begin to optimize your site, you need to install an SEO plugin. Luckily, there are a couple of main options which come commonly recommended, both of which are free to install:
Please note that installing a plugin won't optimize your site for you; it just makes it easier for you to do so and to adhere to best practices.
Set your Preferred Domain
Whether you choose your preferred domain as https://domain.com or https://www.domain.com won't have an impact on your SEO, but you need to make sure your site is accessible on just one of these, as these are considered by Google to be different URLs.
In your Dashboard, go to Settings > General. Here you can choose your preferred domain:

As a side note to this, you need to make sure you have an SSL certificate in place and run your website using HTTPS. If you're not sure what SSL certificates are and what they have to do with http vs. https, read this article discussing the importance of SSL's and https encryption.
Check Your Site's Visibility Settings
WordPress gives you the ability to 'discourage search engines from indexing' your site, which tells Google not to index your site and it won't rank. This is commonly used by developers while a site is in development to stop it from being indexed while pages and content are not complete.
It is more common than you would think to find that this block is left in place after launch. You need to check your site's visibility settings on your Dashboard: Settings > Reading.
Here, you will see a checkbox right at the bottom of the page:

If this box is ticked, you need to untick it.
Enable SEO-Friendly Permalinks
WordPress gives you a number of different options for how URLs are structured, and you need to make sure you are using the most SEO-friendly option.
By default, WordPress uses URLs like this:https://domain.com/?p=123. These URLs are not search-engine friendly, and there is absolutely no way to identify what the page is about from the URL alone.
It is advisable to change the URL structure on the dashboard Settings > Permalinks.  However, doing this to an already established website is very dangerous for SEO; it must be done at the beginning of development or a professional web developer with these skills should be hired to do this correctly. (hint hint – Accent Graphix)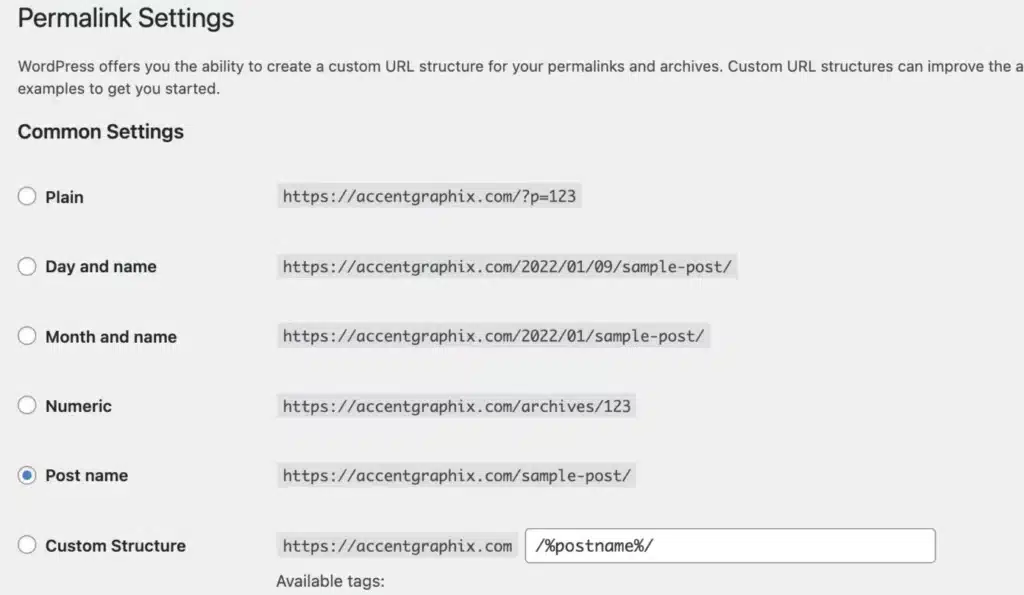 For most sites, you will want to choose 'Post name' for your permalinks because this setting will allow search engines and people to identify what the page is about just by looking at the URL.
Verify Your Site with Google Search Console & Submit Your XML Sitemap
The last easy and free step in basic SEO optimization is; Create an XML Sitemap and add it to Google Search Console.   Either one of the aforementioned SEO Plugins will allow you to create your XML sitemap.  You can easily retrieve the sitemap by going right into your plugin settings.  For the purposes of this article, we are using the premium (paid) version of All in One SEO because it provides so many robust SEO Features.
Jump over to All In One SEO > Sitemaps and you will see various versions of any type of sitemap that you desire.  The easiest and most important is the general sitemap, which will lay out each page you have on your website.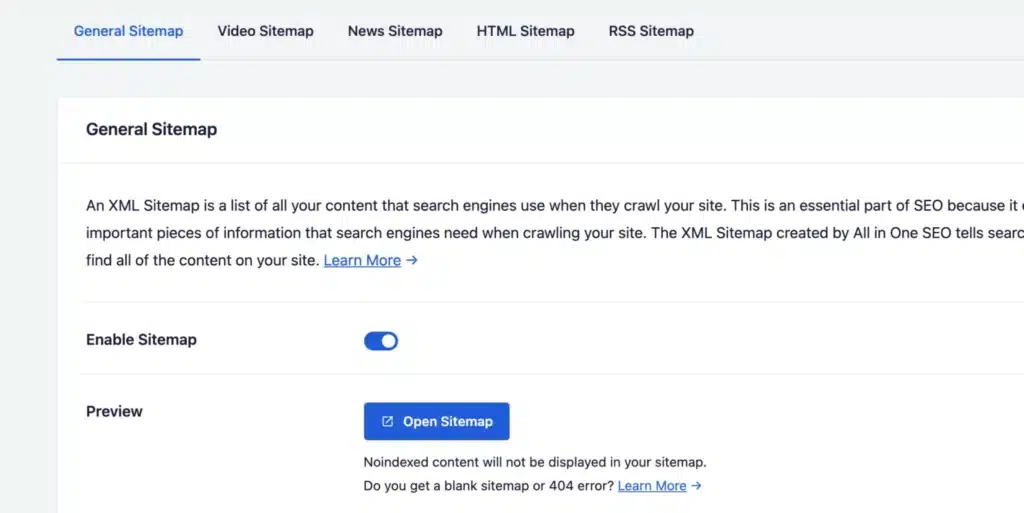 After creating and retrieving the URL to your sitemap, you will want to submit this sitemap to Google Console.  Navigating your way to Google Console (formerly Google Webmaster Tools) is easy.  In fact, you can get to Google Console right from your website dashboard in the All In One SEO Plugin > General Settings > Webmaster Tools
Once in Google Console, you can then submit your sitemap to basically tell Google "go crawl all of the pages of my website that I am showing you with my sitemap."
No doubt that WordPress is one of the most SEO-friendly website platforms, and that is one of the reasons why it is so popular. Not only is it user-friendly, but it is easy to implement a whole host of SEO tactics using just a small number of fantastic plugins.
If you are running WordPress, you have made a good choice. By following the steps above, you are putting yourself in a great position to outrank your competitors. However, it can be a lot to take in and can be overwhelming.  Sometimes it is best to hire an SEO professional who can integrate SEO features efficiently and easily.
The team at Accent Graphix can help you integrate basic and advanced SEO on your website and help you stand out from the crowd.